Civilization II Historical Scenarios
Anyone with Historic Scenarios that need play testing, or which they wish to be included on this site, just Email them to me and I will include them if I think they are appropriate and of reasonable quality, time permitting. You might like to take a moment to read the History Files included with most of the games, they are interesting and informative.
Installation
Some game files download as Self Extracting ZIP's onto your Desktop, just click on them and they will copy the file into the c:\mps\civ2\scenarios directory unless requested not to, otherwise it we just download as a normal ZIP file which you can extract into a folder you create. Then just load Civilization II, and choose begin scenario. If you do not have Conflicts in Civilization or Fantastic Worlds, just back up old civilization files, and copy over them.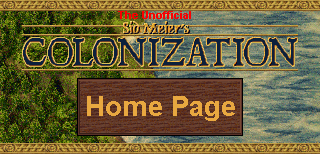 Civilization II has Newsgroups at:
Here you can view and participate in debates with other Civilization fans. If you don't have a news server on your Email you can view newsgroups at dejanews on-line.
Rate my Site with Apolyton
Scenario Poll - Which Scenarios have you downloaded?